2009 marketing agency | new website launch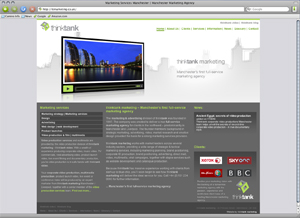 The leading marketing agency in Manchester, thinktank marketing & advertising, launches its new website portal, with a new-style marketing services and corporate video production services site design format.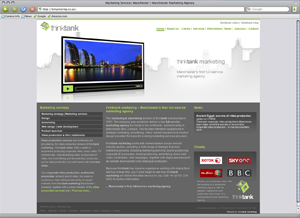 Manchester-based think tank marketing has launched its third generation website with marketing services and corporate video production services sites now using a distinctive format. The new marketing agency website format utilises the latest web technologies and delivers on 270% more information than the previous site for companies looking to procure marketing services.
 
Think tank's original website was launched in 1998 prior to the corporate identity rebranding of the company resulting in an overhaul of the existing website in 2002. [beautifulquote align="right" cite=""]During the last seven years think tank marketing has developed more than 50 websites for clients[/beautifulquote] across a number of industry sectors however, ironically think tank's own marketing services website has been left until 2009 prior to being updated.


Team Views: web development
Head of web services at think tank says, "with so many new protocols being introduced over the last seven years think tank has constantly evaluated the right time to update its own website. Acceptable standards for websites have now reached the stage that it was possible to introduce a site with a significant amount of content which will stand the test of time and meets both current and future web standards."

Because the company provides marketing agency services in a full-service format together with integrated design agency services, website design company services, advertising agency services, TV advertising and corporate video production services, it was challenging to create a format which will allow the company to communicate its excellence in marketing consultancy and marketing services whilst also incorporating the equally strong service provision within a single website.
 
Search engines frown upon mirror website content, therefore marketing agency website needed to advertise the entire service offering from think tank, whilst ensuring that content was not duplicated between think tank's main marketing agency website and its video production division. With a Manchester marketing agency base and a corporate video production services based in Manchester and London, the teams continue to deliver the services under one roof.
 
Due to the high number of enquiries by think tank marketing, it has become an increasingly important to ensure that blue chip marketing services and SME marketing agency services are signposted correctly. Marketing services for small companies are now provided exclusively in the Northwest areas of Manchester, greater Manchester, Liverpool, Cheshire, Lancashire, Wirral, Merseyside and surrounding areas, whereas blue chip marketing agency services and advertising agency services are delivered from think tank's Manchester office to a global audience.
Clients looking for a marketing company in Manchester or Liverpool are encouraged to contact the Manchester office of thinktank. Thinktank continues to differentiate itself from the competition by the strength of its in-house expertise and full service provision offering, which is unique to think tank when compared with other agencies in the Manchester or Liverpool areas.